3797 Applicants to Call from Studentships for FCT PhD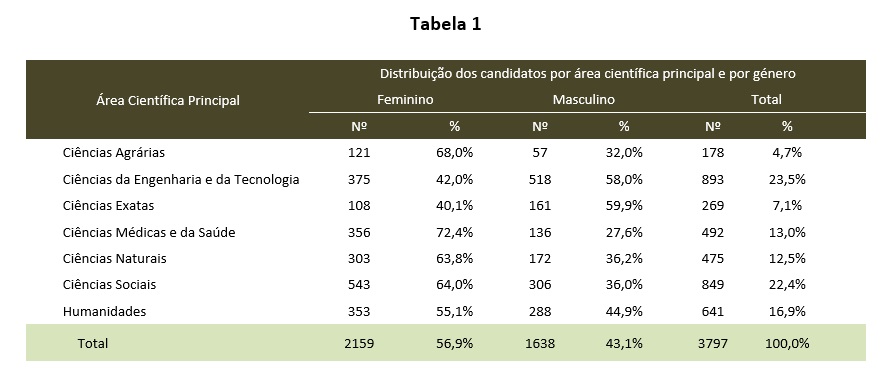 This year, the Call de Studentships de Investigação para Doutoramento da Fundação para a Ciência e a Tecnologia (FCT) received a total of 3797 applications, which represents an increase of 400 applications over last year.
Of the total number of applications, 83% correspond to Studentships in Portugal, 14% to mixed Studentships to be developed in national and foreign host institutions and 3% are Studentships abroad.
Foreign applicants represent 28% of the applications and come from 78 countries. The countries with the most applicants to Call are Brazil (512), Italy (100), Iran (78), Spain (37), Mozambique (27) and India (26).
By gender, the candidates are 57% female and 43% male.
The distribution of applicants by major scientific areas are: Engineering and Technology Sciences 23.5% of the total), Social Sciences 22.4%, the Humanities 16.9%, Natural Sciences 12.5%, Exact Sciences 7.1% and Agricultural Sciences 4.7%. (see Table 1)
Applications will be evaluated by 36 Evaluation Panels. The panels with the highest number of applications are: Clinical Medicine and Health Sciences (229), Bioengineering and Biotechnology (187), and Biomedicine (174).
The FCT Doctoral Research Studentships are grants awarded competitively to support advanced training in all areas of knowledge for obtaining a doctoral degree. These Studentships allow doctoral students to dedicate themselves exclusively to their research, thus contributing to the scientific and technological development of the country. The FCT currently supports about 5 thousand doctoral Studentships and in Call this year will be awarded another 1350 new Studentships.
Published April 29, 2020