Elvira Fortunato appointed to new group of scientific advisors to the European Commission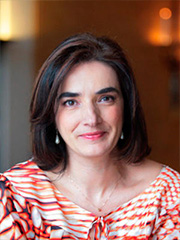 The European Commission today launched it's new Scientific Advice Mechanism (SAM), with the announcement of the leading scientists who will make up the first High Level Group of scientific advisors to the European Commissioner for Research, Science and Innovation, Carlos Moedas. The group of seven advisors includes Elvira Fortunato, director of CENIMAT and i3N – Institute of Nanomaterials, Nanofabrication and Nanomodeling, Full Professor and on the Scientific Council of the Faculdade de Ciências e Tecnologia da Universidade Nova de Lisboa (FCT-NOVA).
Elvira Fortunato pioneered European research on transparent electronics, namely thin-film transistors based on oxide semiconductors, demonstrating that oxide materials can be used as true semiconductors. In 2008, she was awarded an Advanced Grant in the first ever ERC call. In the same year Elvira Fortunato and colleagues produced the first paper transistor, thus launching a whole new field in the area of paper electronics.
Her work has been acknowledged through multiple scientific and society awards, including the Grand Officer of the Order of Prince Henry the Navigator (granted by the President of the Republic in 2010). Elvira Fortunato was a member of the Portuguese National Scientific & Technological Council between 2012 and 2015 and a member of the advisory board of DG CONNECT.
The High Level Group of Scientific Advisors provides the Commission with high quality, timely and independent scientific advice on policy issues where scientific input is needed for the development of European Union policies or legislation. The advice will be based on the best possible scientific evidence. These advisors will also support the Commission in identifying specific policy issues where independent scientific advice is needed.
The members of the High Level Group, selected following an open call for nominations and the recommendations of an independent identification committee, are:
Janusz M. Bujnicki (Laboratory of Bioinformatics and Protein Engineering, International Institute of Molecular and Cell Biology, Warsaw)

Pearl Dykstra (Professor of Sociology, Erasmus University, Rotterdam)

Elvira Fortunato (Materials Science Department of the Faculty of Science and Technology, NOVA University, Lisbon)

Rolf-Dieter Heuer (Director-General, European Organization for Nuclear Research (CERN))

Julia Slingo (Chief Scientist, Met Office, Exeter)

Cédric Villani (Henri Poincaré Institute, Paris)

Henrik C. Wegener (Technical University of Denmark)
The Commission's SAM includes a six million euro grant to European academies and learned societies, which will support collaborations between academies across Europe to provide science advice for policy. According to the Commission, this grant and the High Level Group, "mark a new approach to the use of independent science advice in Commission policy making".
Publicado em 10 Novembro 2015